company history and success
TAFN Engineering, with 30 years in the business, is renowned for the quality of its radio frequency technology, including CATV equipment, FM transmitters, and MATV equipment. It is number one in quality for these products, the brand of first choice for customers looking for quality, in any store nationwide - a reputation we build on as we move into new fields.
| | |
| --- | --- |
| Detail of the automated component assembly process. | A few years ago, our company embarked on a project to develop a revolutionary series of digital amplifiers which could produce powerful sound in a very small, compact size, yielding the highest power to weight ratio of almost any amplifier on the market worldwide. The result is the D-TECH digital power amplifier series, the most advanced technology on the local market for professional-level audio amplifiers. The earliest Class-D power amplifiers could handle sound at low frequencies only. Later models covered the whole range, but sacrificed sound quality in the process. The revolutionary technology of D-TECH power amplifiers overcomes those drawbacks, giving the clearest sound of almost any amplifier. |
The D-TECH digital power amplifier, based on a unique switch-mode technology design which amplifies sounds at high frequencies, was a natural extension of the company's work in designing and manufacturing radio frequency equipment. In a short time, the digital power amplifier has emerged as one of the company's most popular products. We now export to Singapore, Indonesia, Vietnam, and Germany.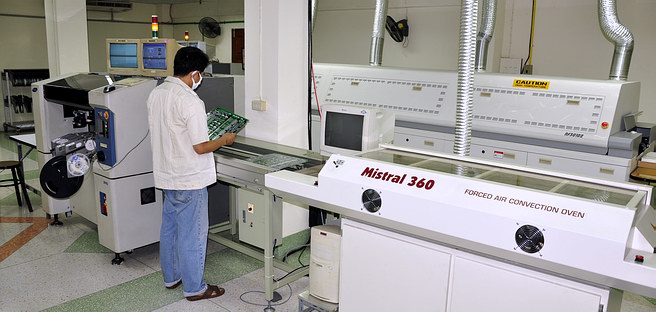 SMD assembly plant, the first step in manufacturing the power amplifier
Class-D power amplifiers are an emerging technology which few manufacturers have been able to master. But thanks to TAFN's extensive experience in radio frequency design, we have been able to set a new standard in power amplifiers which gives you more power and better sound. The company has some of the most advanced equipment available for design, manufacture, and testing of sound amplifiers, which helps us achieve our goals.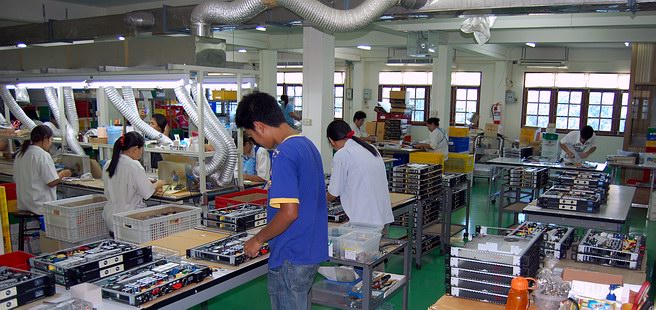 A view of one part of the factory assembly line
Advanced technology is needed to make Class-D power amplifiers. Poor sound quality and distortion have presented challenges to designers in the past. TAFN, however, overcomes those problems, and with its digital power amplifiers combining small size, high power and crisp sound, sets the direction for the future.